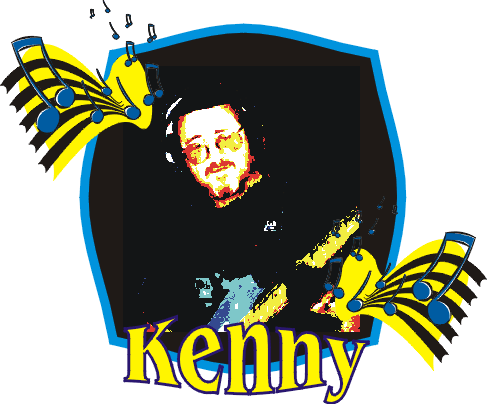 Full Name : Kenneth (Kenny) Ramage

Home Page URL : http://www.angelfire.com/co/KennyRamage

Born : 9th January 1957, Falkirk, Scotland.

Married to Heather - 3 Children :

Instruments :
Vocals.
Lead Guitar.
Slide Guitar.
Acoustic Guitar
A bit of Drums (He thinks!!)
Bands :
1970 - 1972 "White Lighting" - Grangemouth, Scotland.
1971 - 1972 "Black Souls" - Kitwe, Zambia.
1972 - 1975 "Paper Lace" - Kitwe, Zambia.
1975 - 1976 "Life Child" - Vereeniging, R.S.A.
1976 - 1976 "Blue Crystal" - Jo'burg, R.S.A.
1976 - 1989 "Sheriff" - Jo'burg, R.S.A.
1989 - 1989 "Gold" - Vereeniging, R.S.A.
1997 - date "BedRock" - Oranjemund, Namibia.
Recordings :
"Strawman" and "The Way of Love" (1978) with "Sheriff".
Various "Sessions". (1977 - 1989)
"La Cantina" (2000) with "BedRock"
"BedRock Bootleg" (2000) with "BedRock".
"Recovery" (2001) with "BedRock".
Kenny is totally self taught and has never had a guitar lesson in his life. (And you can notice it!!) He thinks he knows how to play drums and he's also been overheard plucking away at the old bass guitar, scaring all the neighborhood children in the process.
He dabbles with computers and that's why this site is normally a bit of a mess.
His guitar is a clapped out old Strata-cruiser which has seen better days. He cleaned it once and found 14 plectrums, 3 guitar strings, a packet of fags and an old boot underneath all the dirt and grime.
His amplicator is a 20W Marshall held together with beer stains and masking tape which he pushes through the P.A. to reach the power and volume that he desires. He uses 3 effects pedals, a Roland Distortion, a Roland Digital Delay and a Vox Wah-Wah.
His choice of strings is Ernie Ball (Although he's had the same set on for 3 years) and he uses a heavy sharkfin plectrum. For a slide he prefers an old shotgun cartridge casing that he got from God know's where and that he can never find when it comes time to use it.
Eric Clapton is known as "Slow Hand" because of the speed of which he plays. Kenny is known as "Tight Hand" because you try and get money out of him for a drink.
---
All Music Produced by
"Criminal Records" at
"Dining Room Studios"
Copyright © 1998 - Perpetuity by BedRock-The Band in The Sand
All rights reserved.
Information in this document is subject to change without notice.
Site designed and maintained by Kenny Ramage.
Editorial Comment and Diary by Pete Shout.
This site is best viewed with a monitor.